Winner will be announced March 20 at EQUITANA in Essen, Germany
WASHINGTON, Va., Feb. 6, 2017 – Wendy Murdoch's SURE FOOT Equine Stability Program has been nominated for EQUITANA's Innovation Award for the second time. The award is of the most prestigious product awards in the European equestrian sports marketplace.
The award is given to innovations in six categories: stable, hall and arena construction, training technology; stable technology and equipment, pasture and agricultural equipment; vehicles; riding and work fashions, safety products; health and care; and nutrition. SURE FOOT was nominated in the health and care category.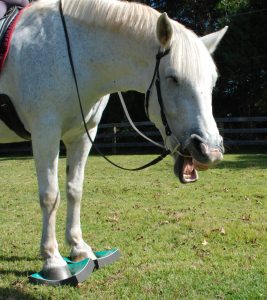 "To get nominated the first time in 2015 was an absolute honor," said Murdoch, creator of SURE FOOT and founder of The Murdoch Method. "The fact that we were nominated for a second time, this time with pads I designed specifically for use with horses, means that the rest of the equestrian community is recognizing the impact of the program on the lives and performance of horses."
The SURE FOOT Equine Stability Program can be used with all horses. The pads make the horse aware of how he is standing, awakening his proprioceptors and allowing him to explore efficient patters of movement!
Here's how it works— humans are the facilitators. When SURE FOOT pads are placed under a horse's hooves as he is standing, the horse will relax, lick and chew, stretch, and even sway. As he steps off the pads, he'll continue to experiment with his body posture at a walk, trot, and canter. One might observe limb extension, back and pelvic movement, change in stride length, and/or ease of movement. This exploration allows horses to break through old habitual movement caused by discomfort or injury.
"How the horse's hoof meets the ground is how that horse meets the world," explains Murdoch. "No matter the size of the horse, his relationship to gravity and the earth is dependent upon the way the horse stands on and lands his hooves. Offer the horse a choice and he will pick the most efficient and comfortable way over a more uncomfortable, less efficient habitual pattern."
The program is unique because it requires virtually no interference or training by the human—the horse decides how long, or how little, he needs to stand on the pads.
"If you can safely pick up a hoof you can use SURE FOOT with your horse," Murdoch says. "The key is to let the horse explore, not to make him stand on the pads."
The SURE FOOT program is ideal for horses with tension, anxiety, repetitive training issues, lameness, or soundness issues, for pain relief, recovery from illness or to improve overall performance. In as little as 10 seconds, changes can be observed in the way the horse stands, moves, and relates to his environment. Behavior changes such as increased confidence, calmness, and an increased desire to be with people have also been observed. These profound changes can be permanent in as little as one session if no underlying cause for pain exists.
While SURE FOOT does not replace training, it does allow the horse to show you that he understands and can perform the task you desire once the underlying stress and/or pain is reduced or eliminated. Therefore SURE FOOT is applicable to any horse for a wide variety of reasons while minimizing stress on all individuals involved.
"We are the facilitators," Murdoch adds. "With SURE FOOT, the horse becomes his own teacher. We have the privilege of watching our horse's transform with this Program in a way that is truly unique and lasting. This transformation challenges our previous beliefs and ideas about why horses resist and lets us see that they are always willing to change if we can tap into something that is meaningful to them."
There are four densities of pads available to meet a horse's needs. To browse the selection, read case studies, and learn SURE FOOT tips, visit www.surefootequine.com. SURE FOOT pads are also available on Amazon.com.