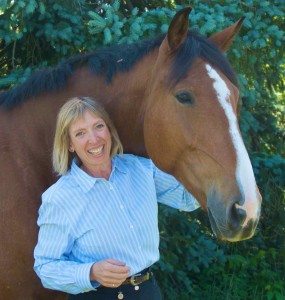 Wendy Murdoch is an internationally recognized equestrian instructor and clinician for over 30 years, author of several books and DVDs, and creator of the SURE FOOT Equine Stability Program® and Ride Like A Natural®. She is one of the most skillful teachers ever encountered in any equestrian discipline. Wendy's desire to understand the function of both horse and human, her curiosity, and her love of teaching capitalize on the most current learning theories. In this way, she is able to help both the horse and the rider.
In 1984 while attaining her master's degree in equine reproductive physiology, Wendy suffered a severe riding accident. Her self-rehabilitation started a quest to understand and answer the question of how to ride pain-free, using the body as it was designed. Wendy's uncanny ability to find and study with the best people in a variety of fields and her profound curiosity make her unique. Wendy combines her creative talents with her scientific training to break down larger concepts of horseback riding as well as horse health into simple, easy-to-understand, bite-sized "chunks" for students of all ages, abilities, and disciplines.  Her ability to make learning enjoyable, engaging, and fun through in-depth presentations helps her students connect the dots and achieve their goals.
Her studies include an apprenticeship with Sally Swift, extensive training with Linda Tellington-Jones, study with holistic veterinarian Dr. Joyce Harman and equine biomechanics expert Dr. Hilary Clayton, and courses with Jon Zahourek (Anatomy in Clay®), To help her guide students towards better function Wendy became a Guild Certified Feldenkrais Practitioner® and continued her study through MBS Academy and Dr. Feldenkrais' first assistant, Mia Segal.
Wendy's willingness to embrace new ideas led her to develop the SURE FOOT Equine Stability Program and SURE FOOT Equine Balance Pads, which allow horses to reprogram their own brain in order to feel more grounded, secure, and confident so they can become a more willing partner.
In 2020 Wendy was introduced to The HAY SOAKER™, a product that was developed by Jennifer Azevedo to heal her horse's health. Jen ceased manufacturing in 2012, yet people were still inquiring as to its availability.  Having embraced the manufacturing world with SURE FOOT Pads, Wendy saw that this product answered a need in the equine marketplace — a simple, easy way to soak hay for horses that need reduced-sugar hay to improve their health. She acquired the product and along with her life partner, Bradley Schneider (an engineer) improved the design, updated certain components, and added a technology to create a modern method for soaking hay.