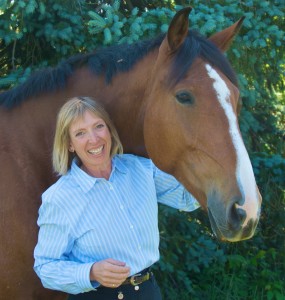 Wendy Murdoch, International Riding Instructor/Clinician and founder of The Murdoch Method, is among the most skillful teachers ever encountered in any discipline anywhere. Her students say that one lesson with Wendy is like 10 lessons with any ordinary riding instructor. Wendy's discerning eyes and depth of knowledge for equestrian correctness enables her to differentiate inherent or habitual horse body issues from current rider-induced horse issues and to address both. She spots the root cause of the training/riding problem in seconds, distills it down to the essential pieces of information that are missing in either the horse or rider's understanding and provides clear and accurate solutions to resolve the problems. Wendy reinforces the rider's lesson by using the horse as biofeedback until the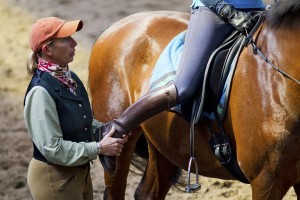 student senses what is best for her. This gives the student a clear and accurate way to reinforce the changes on her own. The horses instinctively experiment with changes in their body resulting from Wendy's hands-on suggestions and seek out the new, easier way of moving, which improves their responsiveness to the rider and overall performance. Wendy's curiosity and willingness to improvise means that she can change things in one lesson that other trainers can scarcely begin to address.  This is powerful because she shows her students that change can happen rapidly, not take forever.  A lesson with Wendy will positively change your entire perspective on your riding and your horse forever!
Read what students say about Wendy!
"Wendy always has multiple ways of helping me to feel, see, experience, and/or think about riding and training so that I can figure things out in the way that works best for me and my horse on that particular day in that particular situation.  And when Wendy make a change in how I am doing something, ensuring I have the experience of going back and forth between the "old place" and "new place" really helps me remember after the lesson ends and I am on my own."
"It is never boring.  I'm always looking forward to seeing what new technique, device, tool, or image Wendy comes up with in her travels and research."
"Wendy looks out for my safety and well being.  My riding improved DRAMATICALLY after the first few lessons with her.  I'm not sure why years of taking lessons before I met Wendy hadn't helped me with my balance in the saddle, but I had been really close to giving up on riding as just too unsafe before she helped me find that level of stability."
"Even when just auditing the lessons before and after mine, I love watching Wendy make the same changes in a
newbie as she made with me in my first lesson.  Watching the expression of disbelief as Wendy asks someone to "slump" [fill out their back] is so much fun!"
"I get some much insight from taking lessons with Wendy on how my and my horses bodies work. And how we can effect the horse good and bad just by the smallest adjustments in our position. Wendy also shows us how to find the right place in our positions to be able to help our horses achieve balance, alignment and and ease of performance in any discipline. I always feel so informed and inspired  after riding with Wendy. Not to mention stronger and like I can do so much more than what I thought I could do."
Would you like to host a clinic with Wendy at your facility? Contact her at wendy@wendymurdoch.com
Photo credits from top to bottom: Lee Rouse, Bit Magazine/Lonneke Ruesink, Patty Werick, Carol Hamel