Step back in time when life was simpler.
Where your day begins with coffee served in your tent, the sun rises over the edge of the earth and full monty breakfast is served before your morning ride.

Be surrounded by Kenyans who treat you as honored family with no pretense and who geniunely care for you, their country and each other while sleeping in the loving embrace of your canvas tent under a moonlit sky protected by Masai Warriors.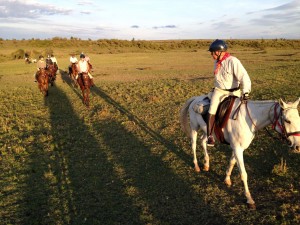 Ride on the open plains with only your horse's hooves between you and the earth. Feel your heart beat a little faster when you ride up on a herd of elephants and gallop with the game as they undulate through tall grasses.

Feel the warmth of the sun, the wind on your face and the breathtaking sights and sounds of the Masai Mara. Leave all the stress of a hectic modern world behind and be rejuvenated by this magical land as you watch herds of impala, wildebeest, topi, gazelles and iridescent birds pass by.

Safaris Unlimited takes you back in time to experience the true Safari of old where your crew and horses are your family traveling over 200 km across the Mara. The memories of adventure, the game and horses stay with you but the experience of belonging strikes a deep chord in the human soul that lasts a lifetime.
Do you want in? Wendy is headed back on horseback safari in September. Get information here.