Description
Note: Firm Pads are on backorder at this time.
One pair each of our SURE FOOT Firm Pads, Slants, and SURE FOOT instructional DVD (upon request at check out).
The Firm pad is the "workhorse" of the SURE FOOT Program. This pad will give immediately upon being loaded with no rebound effect. While it may become marked with hoof prints over time it will hold to heavy use. It has two surfaces, diffuse and direct. Unlike the other medium and soft pad the firm will remain fairly stable withstands any weight or size horse.
The Slants are wedge-shaped with a coated angled surface. Popular with horses under the back feet, slants let the horse experience differences between the flat pads and this angled surface. Slants help to correct habitual posture such as horses that land toe first. Arthritic horses often find the slants very comfortable as evidenced by their desire to remain on the slants. Use either direction (heel high or toe high) to increase the variables when bringing your horse's attention to how he is standing.
Familiarize yourself with the SURE FOOT instructional quick start guide before starting this program with your horse. If there is any medical issues please consult your veterinarian before beginning SURE FOOT to be sure this program is right for your horse.
View the Guide to SURE FOOT Pads: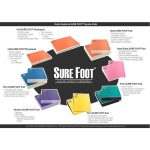 Please watch the Quick Start Guide to get started!

WARNING
:  This product can expose you to phthalates, including
DI-ISO-DECYL PHTHALATE (DIDP), which are known to the State of California
to cause birth defects or other reproductive harm. For more information go to
www.P65Warnings.ca.gov
.