Description
Have you ever wanted to be able to work on your riding when you were not able to ride?
Do you find your hips are stiff?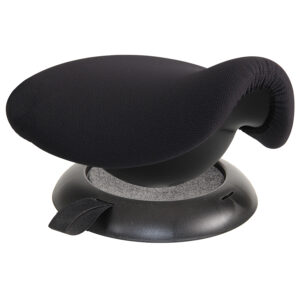 Do you spend long hours in front of a computer dreaming about riding?
Here's the solution!
"When I sit on my Anywhere Saddle Chair, it's like I'm working out at my desk."
The Anywhere Saddle Chair converts most chairs into a saddle shape.
The bottom is round so that you can move while sitting, open your hip angle, and improve your core stability while sitting in the classroom, office, home, or as a warm-up before mounting your horse. All other types of rider stability apparatus require a stand-a-lone piece of equipment. You have to move your desk chair aside. But that means there's more clutter and no portability.
"As a Dressage Rider a neutral spine and engaged core is so important.  The Anywhere Saddle Chair helps me practice my position even when I'm not on my horse." Leslie A.
The Anywhere Saddle Chair along with the Base Plate can be used on plastic chairs, benches, a mounting block, office chair, kitchen chair, any surface that is firm (not fabric slung chairs). The Saddle Chair lifts you up from the right angle that most chairs put you in. This opens your hip angle and places your knees below your hips. Make sure that your feet can remain flat on the floor. Placing the Saddle on chair that is too high is unsafe. AnyWhere Saddle Chair Brochure
Take it with you!
The ability to take your Saddle Chair with you means you can always practice your riding, improve your posture and midriff stability. It's light weight, comes with a mesh carry bag, and doesn't take up much space, unlike other equipment designed to help improve your riding! Use the Saddle before and after you ride, at home, in the barn, and on vacation. Imagine being able to practice your dressage test any time you like With the Anywhere Saddle Chair you can watch your favorite instructor and "go through the motions" while watching the lesson.
The Anywhere Saddle Chair will help to increase hip mobility and core stability.

The ball construction makes the motion of the seat possible in all directions.

Moving and balancing on the Saddle activates different muscles while sitting.

The Saddle Chair maintains and improves your physical condition and well-being while at work and at home.

You can perform more active movements or allow your body to move gently while performing other activities such as working on the computer.

 The Saddle Chair can be used for recovery from injury (consult your Health Care person first) and for relaxation after exercise.

The Anywhere Saddle Chair will benefit all ages for 12 years up and help maintain pelvic movement in older individuals.
"The Anywhere Saddle Chair doesn't let me slouch at my desk, it really keeps my core engaged."
Please be sure to read the Anywhere Saddle Chair Users Guide before using your Anywhere Saddle Chair. Start slowly, just a few minutes a day. You may feel some muscle soreness when first starting out so be sure to go slowly until you know how your body is going to respond to the movement.
Anywhere Saddle Chair Users Guide
AnyWhere Saddle Chair Brochure
Not available for sale to California. Non-returnable.