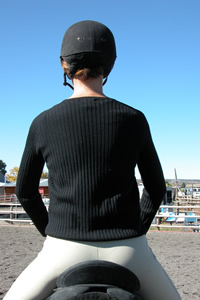 Do you have trouble keeping your elbows by your sides? Does your instructor keep yelling at you to keep your elbows in? Perhaps you have only one wayward elbow that you can't seem to control. The answer may be in giving you a tactile sense of where your elbows belong and letting you feel the benefit of having your elbows in the right place.
Next time you ride pay attention to your elbows. Notice how close they are to your sides. Is there a large gap between under both or only one elbow? Experiment with taking your elbows further away from your body. Then find out what happens when you clamp your elbows by your sides. Feel how this can make you unbalanced and stiff.
If your hips are stiff or you feel yourself coming out of the saddle your elbows begin to widen in order to increase your stability. If only one elbow sneaks away it may be a result of unevenness in your ribcage and shoulders. Whatever the cause for your wayward elbows, here's a bit of help.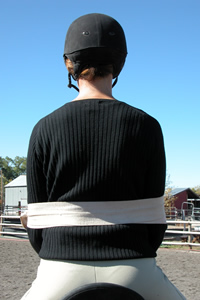 Find a 2" or 3" wide ace bandage, preferably one that still has good stretch to it. Wrap the ace bandage around your arms just above your elbows while they are by your sides. Better yet, find someone to help you with this part. Wrap it twice around (standard length ace bandage) and tie with a bow-tie knot. You want it comfortably snug. You can put on the ace bandage before you before you get on your horse. Then raise the bandage up to your neck like a necklace until you are ready. Once on your horse you can move it back into place just above your elbows.
It is important to know that if you got in trouble you can still use your arms because the ace bandage will stretch. Test the feeling by take your elbows away from your body. Basically you want the bandage just tight enough to act as a physical reminder of where your elbows belong without binding them in place.
Once mounted begin moving at the walk until you are comfortable. Then gradually continue your ride as usual. Notice what changes in your seat, arms and hands. If you feel awkward at first then it means this is a good exercise for you. Once you no longer notice the bandage you can take it off then use it weekly as a reminder. If you are extremely uncomfortable take it off right away and try again later.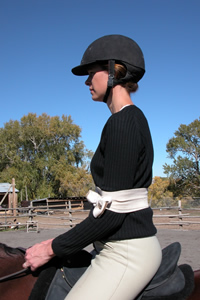 When your elbows are by your side your center of control is lower. Ideal elbow position is when your elbows are well down resting quietly along your side as a result of a relaxed shoulder. Even when riding one-handed both upper arms and elbows should maintain this position. Quiet relaxed elbows indicate that your seat is doing the work of directing your horse, not your hands.
Use this Murdoch Minute as a 'body position self-check' to give your elbows a reminder of where they belong when you ride. At first you might find it awkward but as you become less dependent on your arms you won't notice the bandage anymore. And remember – enjoy the ride!
Wendy Murdoch resides in Washington, VA and is an international riding instructor/clinician. She travels worldwide teaching riders of all levels and disciplines how to improve the horse's performance by improving their body position.