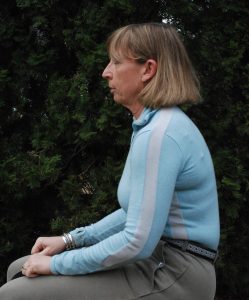 Do you ride with your palms facing down toward the ground? Do you round your upper back and shoulders? Or do you tend to look down at your horse's neck? These positions cause your horse to go on the forehand making him heavy and difficult to turn. Also in this position you will not be able to follow your horse's mouth over a fence, instead relying on a crest release for balance. Here's an exercise to help you sit up straight, open your shoulders make turning easier and continue to develop an automatic release over fences.
Next time you ride notice what you do with your hands. Do one or both palms turn down (palm towards the ground) more than the other? Do you elbows wander away from your sides? Do you have difficulty "giving" to the horse? Do you retract your hands towards your stomach when you halt? Do you tense your shoulders when jumping?
Rolling your palms down or retracting your arms for halts and turns is hard on the horse's mouth and balance. When your palms are down your weight will tip forward putting your horse on the forehand making it difficult for him to balance or push from his hindquarters. Therefore it is important to carry your hands in a position that allows you to sit up, open your chest and follow the horse's mouth over a fence.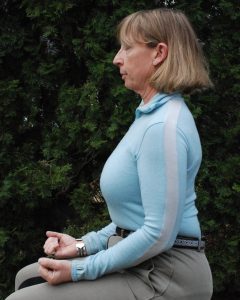 To improve your hand position start off the horse with the following exercise. Sit on a flat bench or chair. Close your hands into soft fists and rest them on your thighs. With your eyes closed slowly begin to roll one hand so that the palm faces the ceiling. What happens in your shoulder? Roll your hand in the opposite direction so that the palm faces your thigh. What happens in your shoulder now? Continue to roll your fist slowly one way and then the other. Observe your breathing, chest, head and neck as you do this.
Roll the other fist and discover the differences on the two sides. Is it harder to run one fist upward? Then roll both fists simultaneously in the same direction, palm down then palm up. What happens in your chest, neck and shoulders?
When your palms are down your chest drops and shoulders close together. When you roll the palms up the chest lifts and the shoulders move apart and backwards. Find the middle between these two positions. With the palms facing each other (thumbs towards the ceiling, eyes still closed) begin to extend your arms. The hands may come away from your thighs at this point. How easy is this movement? Roll the palms down or up and repeat. In what position is it easiest to extend your arms?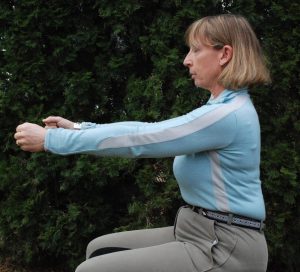 Repeat this exercise on the horse at a walk and find out how your horse reacts to the contact with your hands in different positions. You will find that your arms extend the easiest when the palms are facing each other. The hands may be slightly angled but definitely not palms down or up.
Use this Murdoch Minute to find the best palm position to follow the horse's mouth both on the flat and over fences. In order to allow the horse to lengthen his neck the shoulders, arms and hands need to be in a position where they can follow the horse's mouth forward. And always remember to  – enjoy the ride!
Copyright© 2010. All rights reserved.