Do you get yelled at to "sit up straight" but can't seem to maintain your position? Do you have difficulty keeping your head up? Do you have discomfort in your upper back after riding? Do your shoulders round when you are not paying attention? To solve these problems pay attention to your rib cage, not your shoulders.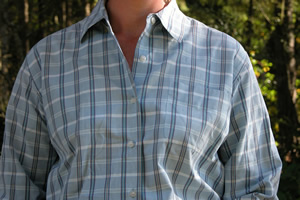 Next time you ride notice your upper body. Do you tend to round your upper back or arch it? Do you try to keep your chest up but struggle to maintain this position? If you were to completely relax in the saddle what would you do with your upper back?
The upper back is comprised of your thoracic spine and ribs. Gently take your fingers and trace down the back of your cervical (neck) vertebrae starting at the base of your skull. As you get to the bottom you will feel a large bump, which is the spinal process of the 7th cervical vertebrae. If you continue down below this point you will feel the spinal processes of your thoracic vertebrae. This might be easier to do with a friend.
Have your friend gently explore your spine with fingertip pressure. You will feel the pressure through your shirt, but a thick jacket might make this difficult. See if you can identify each vertebra separately as your friend moves slowly down your spine. Sense and feel the curve of the spine in the upper back region.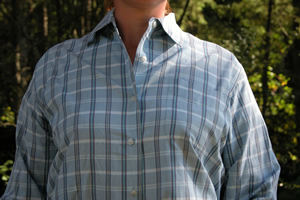 With your friend resting her fingertips on each vertebrae along the spine, move that vertebrae forward and back. This will be a very small movement. The idea is to increase your awareness of your thoracic spine. At first you might find it is easier to move only in one direction. Continue until you have a clear image of your spine particularly in the area between your shoulder blades. Notice that the shape of your rib cage changes as you move your spine even a tiny bit.
There is a pair of ribs for each thoracic vertebrae and a total of 12 sets of ribs in most people. The upper 10 pairs of ribs attach to the sternum (your breastbone) via cartilage. There are joints where each rib meets the vertebrae and the cartilage. This provides flexibility in the rib cage necessary for breathing.
As you move your spine notice that the front of your rib cage changes shape from concave to convex. Continue making small movements with your spine until you find a place where your rib cage feels open and full in front and back. Observe how your shoulders suddenly rest on top of the ribs in this position. You no longer need muscular effort to hold your shoulders in place.
Collapse your rib cage in front (move your spine back). When the upper back is rounded the shoulders fall forward and are unsupported by the skeleton. The head and neck hang in front of the rib cage not over it, which can result in neck strain from holding your head up mostly with your muscles. Notice the tension you feel in your upper back, neck and shoulders.
Next stick your ribs out (chest out) moving your upper spine forward. When you stick your chest out and arch your back the rib cage is forward of your shoulder girdle. Your muscles do all the work, which will eventually result in fatigue and loss of posture. Sense and feel the tension this position creates.
Return to the middle between these two places. When your spine and rib cage are in the middle between convex and concave your head will be aligned over your torso. The shoulder girdle can rest on the upper ribs. This will decrease the muscular effort required to "sit up straight" allowing you to maintain your posture longer with less effort.
Use this Murdoch Minute as a 'body position self-check' whenever you feel the need to 'sit up straight'. This simple exercise will improve your overall confidence and balance when riding your horse and help you achieve the elegant posture you desire. And remember – enjoy the ride!
Wendy Murdoch resides in Washington, VA and is an international riding instructor/clinician. She travels worldwide teaching riders of all levels and disciplines how to improve the horse's performance by improving their body position.