Do you feel like your ankles are inflexible? Do you have difficulty getting your heels down? Do your ankles hurt? Do you need hinged stirrups in order to get weight in your heels? Here's a quick tip develop flexibility and depth in your heels.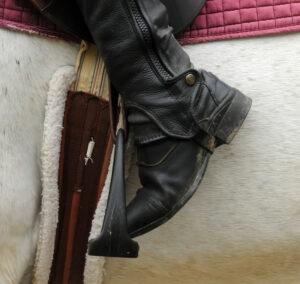 Next time you ride notice what happens to your ankles when your feet are in the stirrups. Do your ankles feel stiff? Do you roll to the outside of your foot with the weight on the little toe? Or do your feet stick like wings instead of parallel to the horse's sides? To improve ankle flexibility it is important to understand how your ankles work.
There are different types of movements that you can make with your ankles and feet. Your foot can pronate and supinate which is a rather complex movement involving the entire foot and ankle. To remember the difference between pronation and supination take your hand and form a cup as if you wanted to eat soup with your hand – this is supination. The opposite of supination is pronation or turning your palm away.
To supinate your foot, turn the sole inward and upward like you did with your hand. Dressage and western riders often supinate their feet when trying to "wrap their leg around the horse" but this isn't good for your knees. Pronation is when the inside of the foot moves down and away from midline. If your foot pronates when in the stirrup someone on the ground could see the sole of your boot, commonly seen in hunter riders. Neither of these positions is ideal because the ankles are jammed preventing the ankle from acting like a shock absorber.
Point and flex your foot a few times. This movement occurs in the true ankle where tibia and fibula form an upside-down "U" resting over the talus bone. This joint that is critical to getting weight in your heels. For this joint to work smoothly your foot needs to be in a neutral position side-to-side, with no pronation or supination.
Point and flex your foot again. Pronate the foot and notice what happens to the ease of pointing and flexing. Then supinate and feel what happens. Both pronation and supination make it more difficult to point and flex at the true ankle.
For good shock absorption you want your foot to be flat to the ground while in the stirrup, as when standing. This will allow your ankle joint the greatest amount of freedom to move with the horse's movement. If you ever have an opportunity to watch the riders at the Spanish Riding School in Vienna, Austria you will observe that their feet are level and their ankles are so free they make little circles while maintaining full contact with the stirrup.
To improve your ankle mobility while on your horse standing still place your foot in the stirrup and move the stirrup from side-to- side as if you wanted show someone the sole of your foot and then aim it towards the horse's belly (pronation and supination). Make a circle vertically with your heel with your toes as the center of the circle. Go both clockwise and counter clockwise.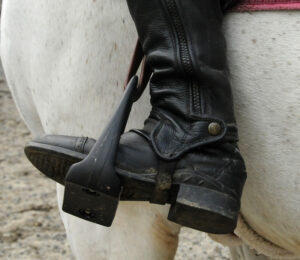 Lift the heel so that only your toes are touching the stirrup. The heel needs to be high enough so that your big toe is as upright as possible, as if you were in ballet shoes on point. Slowly roll across the tips of your toes from the big toe to the little toe and back again. The heel will make a large arc as you move from big to little toe. Feel what happens in your ankle as you do this movement.
Play with the side-to-side balance of your foot as you flex at the ankle joint. What foot position makes this easier? Harder? Find the place where your foot is evenly contacting the stirrup across the entire ball of the foot and you can flex in the ankle easily. As you ride notice if your ankles move with the horse while keeping your weight evenly distributed across the stirrup.
Use this Murdoch Minute to improve your ankle flexibility and weight in your heels. As with all these exercises go gently and do less or stop if you feel any ankle pain. Any time you feel your ankle getting a bit stiff make small circular movements with your heels until you feel the ankles become more like shock absorbers and always remember to enjoy the ride!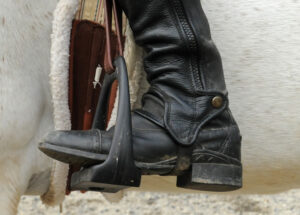 Wendy Murdoch resides in Washington, VA. She teaches riders of all levels and disciplines how to improve the horse's performance by improving their body position. On-line join Wendy's Facebook group Fans of the Murdoch Method and find more articles, blog and her new book 50 5-Minute Fixes to Improve Your Riding, based on the Murdoch Minutes at www.murdochmethod.com