Do you have trouble turning your horse? Does he look out on the turns? Do you feel like he won't listen to the inside rein? Do you get tight in the shoulders? The answer may be how you are using your arm in the turn.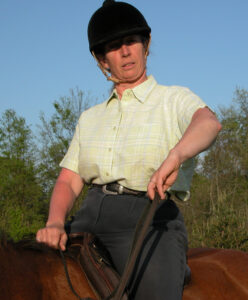 Next time you ride some circles or turns notice what you do with your inside arm. Do you take your elbow away from your body "leading" the horse with your elbow? Do you drop your inside shoulder when asking your horse to turn? Does your weight shift across the saddle? In order to give the horse and accurate turning aid from your seat your arm needs to remain connected to your body. This will decrease the amount of shoulder effort required to turn your horse and keep your seat level.
The human shoulder joint is designed for a large range of motion but is not very stable due to its shallow socket design. The rotator cuff muscles help keep your shoulder joints together and are prone to injury when we overextend our arms. The horse has much greater skeletal stability in the shoulder joints and therefore a more limited range of motion. This is a good thing otherwise their front legs might do the splits making it impossible for them to able to carry a rider.
Leading with the elbow through a turn makes the shoulder muscles work harder to maintain arm stability. Leading with the elbow often causes the rider to lean or collapse, which changes the riders weight distribution over the horse's back. Collapsing (shoulder drops) causes the weight to shift to the outside while lengthening (shoulder rises) shifts the weight shifts to the inside. This will hinder the horse's ability to bend. He will lean in or fall out in an attempt to stay underneath you.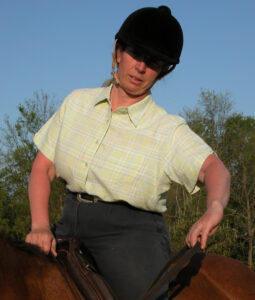 Keeping your upper arm by your side helps you maintain an even weight distribution over the horse's back and decreases the amount of shoulder stabilization needed. This is especially important if you have had a shoulder injury so that you don't stress this area again. Another advantage is that this position makes you more stable in the saddle. You establish a better connection from your seat to your horse's mouth.
With your elbow by your side the line of action from the bit goes to your elbow and then to your pelvis. When your elbow is away from your body the line goes from the bit to your shoulder and then through your upper body to your pelvis. Your body acts like a lever meaning it takes less effort to pull you out of the saddle. Decreasing this lever makes you more stable effectively keeping your center of gravity low and your seat deep in the saddle.
Experiment sitting in a chair with a friend. Hold a piece of string or a rein in your hand. Keep your elbow by your side and have your friend pull on the rein. Notice how stable you are. Take your elbow away from your side and have your friend pull again. How secure are you now? Do you have to tense your shoulder to prevent her from pulling you out of the chair? Collapse as you take the elbow away and feel what happens to your weight. Where do you tense to resist your friend's pull? Then lengthen on that side and find out what happens. Repeat this exercise on your horse at a standstill and find how the horse has to compensate for your position.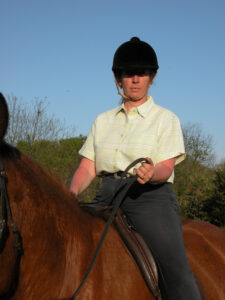 Use this Murdoch Minute to keep your elbows by your sides as you ride through a turn. With your elbows by your side your center of gravity stays down in the saddle, your seat stays level and minimize the amount of shoulder strength needed for turns.
Wendy Murdoch resides in Washington, VA. She teaches riders of all levels and disciplines how to improve the horse's performance by improving their body position. Her new book, 50 5-Minute Fixes to Improve Your Riding, based on the Murdoch Minutes, will be available July 2010. On-line join Wendy's Facebook group Fans of the Murdoch Method and find more articles and her blog at www.murdochmethod.com.