Be sure to claim your spot NOW for the August 7 webinar– it will start at 4 p.m. EST. Can't make it? It will be recorded, but you must register beforehand to get the recording link.
Learn how to make your horse happy with Sure Foot!
All registrants will be entered to win a SURE FOOT Farrier Pad (a $150 value)! A full set is five pairs of pads (one of each density). Winner will be announced during the webinar, so tune in! Register here.
This free webinar will show you: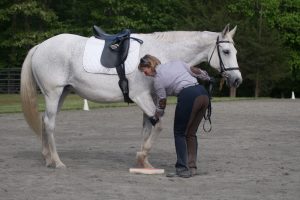 How Horses Typcially React to Sure Foot
Horses typically lower their heads, lick and chew, and let their parasympathetic nervous system (grazing mode) take over.
How Horses Benefit from Sure Foot
This revolutionary concept is recommended by equine professionals and riders as a way to calm horses, improve performance, change behavior and create harmony between horse and rider.  
Horses change habits in as little as one session doing something he enjoys!
How You Can Use Sure Foot to Improve Your Horse
If you can lift a hoof, you can bring happiness to your horse through Sure Foot!
Learn from Wendy as she works with a horse who has never used Sure Foot! She will show registrants how to introduce Sure Foot to their horses and explain how to best facilitate the process. Bonus- you'll get to see how the horse changes during the process!