It's been a month since we returned from Safari in the Masai Mara in Kenya, and Botswana. We've recollected times of being one with nature, of the Mara and the great time we had. I assure you that we'll recall these memories for a long long time to come! Those who traveled with us, the Mara gave them something to take home, changed them and will stay with them. It is the magic of the Masai Mara.
Kenya Safari
Our 2014 safari on the Masai Mara with Safaris Unlimited was nothing if not a memorable one! From a pregnant elephant matriarch who charged camp and lounging leopards to wildebeests and feasting lions, we'd never seen the likes of the game we came nose-to-nose with this year.
Gordie, our longtime friend and guide with Safaris Unlimited, and I were talking and I mentioned how much the Mara means to me and that it speaks to me. He said that he has ridden all over Africa and no place speaks to him as the Masai Mara does, so I know there is something special about that place.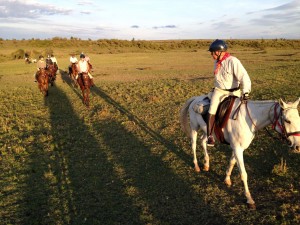 There's something truly special about galloping across the open plains. The scope and magnitude of the Mara takes some getting used to. The land is open and broad. You can see the curvature of the earth on the horizon over the dried grasses waving in the gentle breeze dotted by thousands of wildebeest. One gets the sense of what it must have been like in the Great Plains in America 400 years ago when huge herds of buffalo roamed the plains. For the entire nine-day safari we never see a fence, go through a gate, or cross a bridge on horseback.
The entire operation moves every two days during this nine-day trek for a total of 4 camps. With no towns for miles everything is packed out in trucks to the first camp in advance of our arrival including food for 15 guests, the crew (numbering more than the guests) and horses.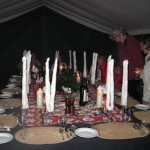 Gordie and his crew do a spectacular job of making the safari an experience to remember. Some might call what we do on safari "glamping." And it's true! From fine dining under the stars to comfortable tents and hot showers each night, the Safaris Unlimited team takes care of us.
Now the elephant charge through our lunchtime camp was a little extra. Gordie promises that he didn't schedule that! It did make for some fun stories to tell.
Gordie, the Mara and the Safaris Unlimited crew have become a part of our extended family due to the many trips we have made. It is always fun to return because it is like coming home in a way, and equally hard to leave at the end of a ride, but we then look froward to our next trip.
We're already planning another trip. Are you coming along?
Botswana 
After leaving Kenya, we traveled down to Botswana to spend a few days with John Sobey, owner of African Horseback Safaris. We're hoping to include a safari in Botswana to the Horsing Around International offerings!
This is a different type of safari adventure in that rather than traveling with a moving camp you are in a base camp and ride out each day to a different part of the Okavango Delta from Macatoo Camp. We were there near the end of the flood season and this is part of the excitement– we got to ride in the flowing waters of the delta. And when I say ride, we walk, trot, canter and gallop through the water. It is an absolute blast!
What is also unique about this camp is that it is in a conservancy that is huge– several thousand square miles! It is the only camp there, so when you go out to ride you will not see anyone else, you will not see any other camp or lodge, that part of the delta is yours alone to explore. African Horseback Safari can accommodate up to 16 people at a time. They have a large stable of horses, 28, and several guides along with the many other staff members. It is a different experience, but one that we are sure you would enjoy.
We saw a lot of elephants, giraffe, and buffalo along with other game. Here, like in Kenya, the guides get you pretty close so you can really see these animals. There is much to see in this region. The terrain is different from the Mara in that it is all sand here so riding through the water is quite safe, no rocks and boulders to worry about like we had in Kenya.
One of the nice things about African Horseback Safaris is that it does not have to be a fixed ride like we do in Kenya. We can create any type of riding trip you like with as many (up to the camp capacity) or as few people as you like and it can mix riding with photo trips, helicopter rides, and other activities. You can go for a couple days or a couple weeks, they are quite flexible, we just have to set up the arrangements and schedules. If you go as a small group of say four or five, there will probably be other people there from Europe, or elsewhere coming and going, so you get to meet and mix with them.
There is a base camp and everyone is housed in tents, but these are all on raised platforms and look out onto the delta. Each tent has an indoor bathroom with toilet and hot water shower. It's quite different from a water bucket on a pole in the Mara. We still had hot coffee brought to our tent each morning and that was well received. The meals are great, outdoors under the stars. The staff is experienced and all stand ready to take care of your needs.
We'll keep you updated on future trips planned!
It's never too early to book for next year! Click here for more information.