We have compiled the entries for the Grand Prize  – A Full Set of SURE FOOT Pads Plus Pod and Physiopads (Value $1029.55). As we have stated, you need to have entered all 5 weeks of the preceding contests to be eligible. The list posted below has over 120 people so far who are in the running! If there is a yellow box following your name there is at least 1 contest you didn't enter (or we missed your entry).
To be entered for the Week 6 drawing you need to have entered all 5! If we missed your entry please let us know via Facebook with a link to your comment so we can be sure to update the list.
If you have not completed all Five Contests click on the appropriate links to each Week below and complete your entry. All entries must be completed by  8:00 AM (EST) Friday, March 12th. Wendy will draw the winner during her SURE FOOT Webinar with Wendy starting at 1:00 PM that day.
Contest entries Wk 6 Tabulation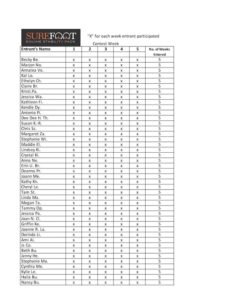 Quick links to the Weekly Contests: Click on the link, follow the instructions posted there and you will enter!
Good luck!