Description
A Set of Two SURE FOOT Half Physiopads (12 x 16 x 1.5 each ) is half the size of the SURE FOOT Full Physiopad with has two working surfaces:  1″ SURE FOOT Hard, and 1/2″ SURE FOOT Medium.
The SURE FOOT Half Physiopad has no rebound (bounce back) and is similar to bare ground when initially stepped on giving slowly to heat and pressure. As the horse stands on the pad the effects become visible with the horse relaxing and able to stand quietly as when being trimmed or shod. When the horse steps off the Hard side and imprint of the hoof will remain for a short period of time. This gives you a visual as to how the horse habitual stands on that hoof. You can see the weight bearing surfaces and the level of indentation indicates whether there is even or uneven distribution of weight on those areas.  This can assist in determining proper trim and shoeing, and developing a rehabilitation program to improve weight distribution and balance while at the same time, retraining the habitual posture patterns.
"I am a firm believer in the SURE FOOT® Equine Stability Program. The Physiopad has helped several of my client's horses and as a farrier I believe this in my business as well. I have used this on horses with side bone, navicular, founder and several other issues. Thanks for this product!" – Jeff Stubblefield, Master Farrier for 47 year
Warning: When introducing horses to the Physio Pad be sure they are not on cross-ties until it is clear the horse is comfortable with the pad.
View the quick guide to Sure Foot pads: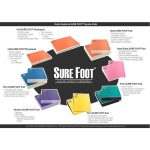 WARNING: This product can expose you to phthalates, including di (2-ethylhexyl) phthalate ("DEHP"), which are known to the State of California to cause cancer and birth defects or other reproductive harm. For more information go to www.P65Warnings.ca.gov.
Please watch the Quick Start Guide to get started!