Description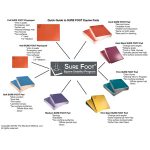 Choose your Pads! You can decide which density  you want with this package. All three the same or three different densities! 
SURE FOOT® Equine Stability Program DVD packed inside every pair of pads. Share the spare DVDs with your friends!
View the quick guide to Sure Foot pads.
SURE FOOT® Equine Stability Program DVD
Your Horse's Path to Calmness, Confidence and Better Performance in No Time
• Would you like your horse to be more confident, stand quietly and ride in balance with greater ease?
• Want to help your horse improve his own performance using something quick, simple, easy to do?
• Would you like to offer your horse comfort while recovering from injury?
• Your horse becomes his own teacher using SURE FOOT!
In this DVD Wendy teaches you how to use SURE FOOT with your horse. Step-by-step instructions guide you through the process safely so that you and your horse restore and/or discover new patterns of movement.
Be sure to familiarize yourself with the SURE FOOT instructional DVD before starting this program with your horse. If there is any medical issues please consult your veterinarian before beginning SURE FOOT to be sure this program is right for your horse.

WARNING: This product can expose you to phthalates, including di (2-ethylhexyl) phthalate ("DEHP"), which are known to the State of California to cause cancer and birth defects or other reproductive harm. For more information go to www.P65Warnings.ca.gov.