Description
Free Pair of HandsOn gloves with two Half Physio Pads!
The Physio pad is unique because  it provides virtually no rebound and is similar to bare ground when initially stepped on. However, as the horse stands on the pad, it gradually gives way to his weight. This visual will give clues into the horse's habitual posture. Seeing the loading can be used in determining proper trim and shoeing, and assist in developing a rehabilitation program to improve weight distribution and balance while retraining the habitual posture patterns.
HandsOn Gloves are a revolutionary concept that reaches far beyond the traditional curry combs, mitts and shedders on the market today. Wet or dry, they won't slip or fall off while providing you and your animals with a more thorough and enjoyable bathing and grooming experience.
The scrubbing nodules on the fingers and palms provide a deep thorough clean and are the best de-shedders on the market today. Another added benefit is your animals hair does not stick to the HandsOn Glove; just a simple flick of the wrist and the hair instantly releases so you can go right back to caring for your animal.
The textured surface and flexibility of our gloves allow you to better massage and improve circulation while distributing natural oils and promoting a healthy skin and coat.
View the quick guide to Sure Foot pads: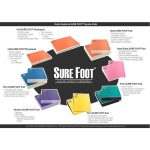 Please watch the Quick Start Guide to get started!