Description
Note: Hard Pads are on back order at this time. All other items will be shipped. The Hard will ship when they arrive.
Choose your Pads! You can decide which density you want with this package. All three the same or three different densities! 
View the Guide to SURE FOOT Pads: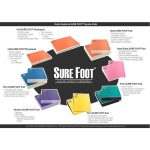 Please watch the Quick Start Guide to get started!
Be sure to familiarize yourself with the SURE FOOT instructional video before starting this program with your horse. If there are any medical issues please consult your veterinarian before beginning SURE FOOT to be sure this program is right for your horse.

WARNING: This product can expose you to phthalates, including di (2-Ethylhexyl) phthalate ("DEHP"), which are known to the State of California to cause cancer and birth defects, or other reproductive harm. For more information go to www.P65Warnings.ca.gov.