The Mara Ride 2018 takes place during The Great Migration, the largest land animal migration in the world. Herds of wildebeest (gnu), zebra and other antelope  follow the rains crossing the Serengeti from Tanzania into Kenya's Masai Mara National Reserve from July through September.  On this Safari you will ride through open plains, herds of animals and watch one of the greatest natural cycles on earth as 1.5 million wildebeest follow the rains in a ancient clockwise cycle that covers a total of 1800 miles.
A horseback safari is one of the most unique and unforgettable adventures you'll ever have. Spend 9 days with Safaris Unlimited and Horsing Around International in Kenya and take home a lifetime of memories.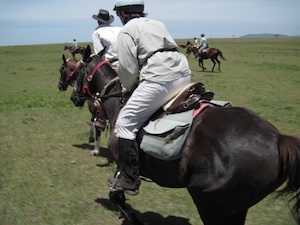 The word safari evokes images of trekking through vast wilderness apart from civilization and surrounded by exotic wild game; elephant, lion, hippo, cheetah, giraffe, wildebeest, gazelle, and birds overhead and afoot. Now imagine being on horseback surrounded by those same animals. Spend an evening listening to the singing of Masai warriors before a peaceful sleep.
Gather your horse the following morning to ride across sweeping savannas. Ride the Mara as only one can from atop a horse.

HORSING AROUND INTERNATIONAL
P.O. Box 488 Washington, VA 22747
T: (540) 675-2285  (540) 675-2492 (540) 305-6137 (c) Wendy: wendy@wendymurdoch.com  Brad: Bschneider06@gmail.com